Lion Cliff Teel 1931-2019
It is with profound sadness that The Cannington Lions Club has lost a dedicated member of our Club and a supporter of our community. Lion Cliff Teel has passed away. Lion Cliff was a pillar of The Cannington Lions Club. Lion Cliff was always ready to lend a hand to any project. He helped out not only with The Club but also with organizations that The Club supported including Meals on Wheels. Lion Cliff always had a story to tell and he would regularly add to the spirit of comradery at Lions meetings. He will be missed by all of the members of The Cannington Lions Club and our sincere condolences go out to his family and wide circle of friends. Thank you for everything you did Lion Cliff!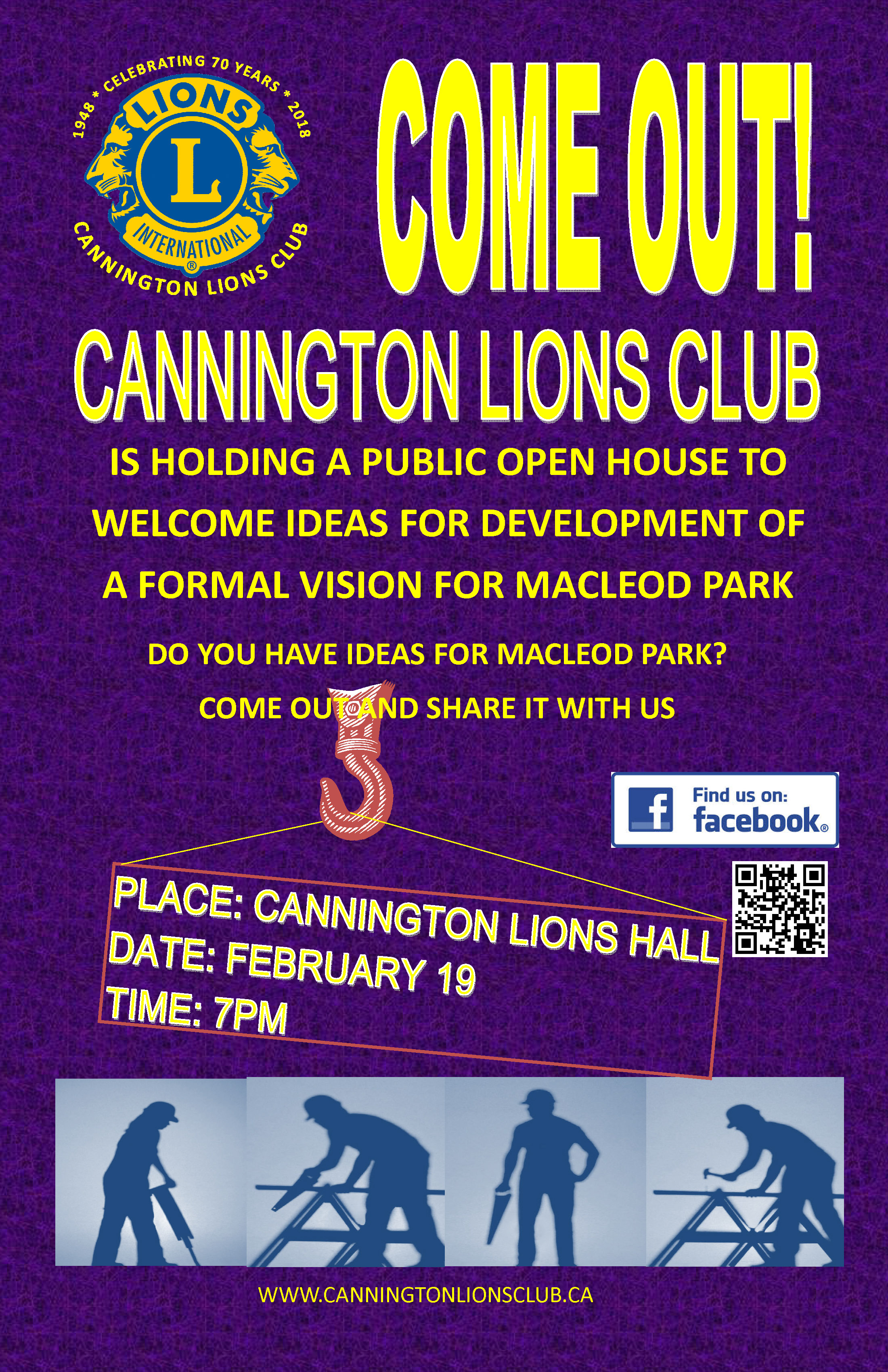 COME OUT TO OUR OPEN HOUSE
A SPECIAL OPEN HOUSE TO GATHER PUBLIC INPUT TO DEVELOP A FORMAL VISION FOR THE FUTURE OF MACLEOD PARK.
FEBRUARY 19 7PM CANNINGTON LIONS CLUB
24 LAIDLAW STREET SOUTH CANNINGTON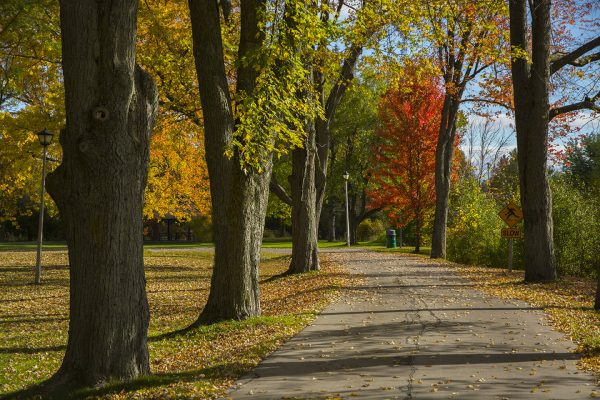 The Cannington Lions Club is planning to develop a formal vision for MacLeod Park which will be adopted by The Township of Brock. The vision will layout amenities to eventually form a new and enhanced parkland for residents to enjoy. The Club is looking for your input. An open house will take place at The Cannington Lions Club on February 19th where information will be available as well as input from residents gathered. We are also welcoming input via a survey available on The Township of Brock's website. Please help us develop a vision for MacLeod Park to guide future projects and fundraising efforts. It's your park and your Cannington Lions Club wants to help improve it.
More information will be posted here shortly about this exciting community project.
Complete the online survey at The Township of Brock at townshipofbrock.ca/cannington-parks-visioning-survey/
2018 Christmas Cheer Draw
Cannington Lions' annual Christmas Cheer Draw tickets now on sale!

Proceeds go toward Cannington Lions Club community service and projects
Price: $2.00 or three tickets for $5.00
Draw Date: Saturday December 8

2018 DRAW WINNERS:
- Christmas Cheer gift basket containing goodies and 750ml Crown Royal: #X0222 Leslie Everson
- Christmas Cheer gift basket containing goodies and 1.14L Crown Royal: #X0794 Pauline Monette
- Christmas Cheer gift basket containing goodies and 1.75L Crown Royal: #X0364 Tom Adams
- $100.00 Sobey's Gift Card (good for use at Foodland and other participating grocery stores): #X0183 Georg Jack
CONGRATULATIONS TO THE WINNERS AND THANK YOU!
Cannington Lions Club's 71st Annual Santa Claus Parade
Special thank you to everyone who helped make our 2018 Santa Claus Parade a successful one! Thanks to everyone who entered a float, to the McCaskill's Mills School band and the Sunderland School band, the wonderful volunteers, The Legion, Campbell's TV and Appliance, Durham Regional Police, Cannington Firefighters Association, our various parade sponsors, and of course Santa and Mrs. Claus. We also want to thank the many people who came down to watch the parade and visit with Santa afterward. Thank you and we'll see you next year. Merry Christmas!
Thank you to our sponsors who help cover the costs of the parade:
Canada Protection Plan Inc.
Brelmar Veterinary Clinic
Brock-Simcoe Accounting Professional Corporation
Cannington Veterinary Services
Hudson Insurance Brokers
Sunderland Agricultural Society
Brown & Brethour Insurance
Wild Garden
Shawn McNamara Law
Paul Grills

Photos by Adeline Khoo Pettit
Thank you for all of the donations of scrap metal and e-waste
The Cannington Lions Club collects scrap metal all year long.
Canada Day Citizen of The Year 2018
Congratulations to Lisa Schummer The Cannington Lions Club's Canada Day Citizen of The Year 2018!